Lampu Landasan Rosak, 12 Penerbangan Dari Sibu Dibatalkan
12 buah penerbangan dari dan ke Bandar Sibu dibatalkan hari ini kerana penutupan landasan Lapangan Terbang Sibu, hari ini.
12 buah penerbangan tersebut adalah :
Sibu-Kuching (5.25PM)
Sibu-Kuala Lumpur (6.50PM, 7.30PM, 8.50PM)
Sibu-Miri (8.10PM)
Sibu-Kota Kinabalu (8.25PM)
Kuching-Sibu(7.35PM, 8.55PM)
Miri-Sibu(7.50PM)
Kota Kinabalu-Sibu(8.00PM)
Airasia juga mengeluarkan nasihat perjalanan di laman sesawang mereka menyatakan bahawa penyebab pembatalan penerbangan adalah kerana kegagalan lampu landasan di Lapangan Terbang Sibu.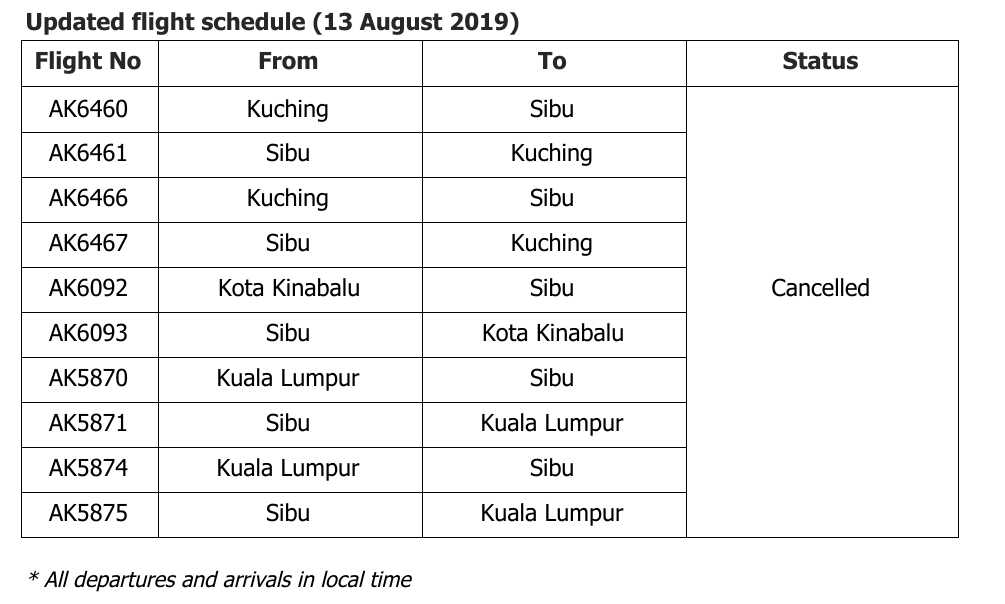 Dipetik dari nasihat perjalanan tersebut :
In light of the recent events, AirAsia is making the following options available to guests whose flights to/from Sibu have been cancelled:
Change flight. One-time flight change to a new travel date on the same route within 30 calendar days from the original flight time without additional cost, subject to seat availability; OR
2. Credit account. Retain the value of your fare in your AirAsia BIG Loyalty account for future travel with AirAsia. The online credit account is to be redeemed for booking within 90 calendar days from the issuance date for your travel with us. The actual travel dates can be after the expiry date as long as our flight schedule is out.
3. Refund. Guests whose flights have been cancelled may obtain a full refund in the amount equivalent to your booking in the form of original payment. Refund requests can be made with AVA at support.airasia.com. Refunds for bookings made through travel agents including online travel agents must be done via travel agents from which the booking was made.
AirAsia is also advising guests travelling to/from Sibu on 14 August 2019 to monitor their flight status at airasia.com/flightstatus.